Home | Supplements | eBooks | DVDs | Articles | Forum

Nitrobol Protein
The Best Amino Acid Supplement for Bodybuilding
"Can Long Lost Secrets From
An Eccentric Bodybuilding Genius
Double Your Muscle Mass Gains?"
Rheo H. Blair was the first man recognized as a nutritional wizard when it came to bodybuilding diet and supplementation. He regularly performed physique transformation "miracles" on hundreds of less than average bodybuilders.
Throughout the 50's, 60's and 70's, testimonials abounded about the amazing physical transformations Blair performed on hundreds of "hopeless cases." He was regularly turning 97-pound weaklings into strapping men with his special protein formulas and vigorous volume-based weight training routine.
Even advanced bodybuilders were reporting similar results from the Blair system.
In an article from the May 1967 issue of Iron Man magazine, a bodybuilder wrote:
"After being on Rheo's program for only three weeks, I made more gains than I had in the past six years. I put almost a half-inch on my arms. And after two months I [put on] almost 20 pounds [of pure muscle]."
From An Average Bodybuilder To Mr. America...
In Less Than Four Months!
Under Blair's tutelage, Jim Park went from an unknown bodybuilder with an average physique to Mr. America... in less than four months! And even more amazing is this amazing transformation was done without drugs! This was back in the 50's before steroid use became so widespread in bodybuilding.
Although he had a reputation as an eccentric, all the great bodybuilders of the 50's, 60's and 70's (Arnold, Frank Zane, Larry Scott, etc.) followed Blair's advice and got in the biggest and best shape of their lives. Blair had the secret of achieving steroid-like results without drugs.
Unfortunately, Blair died an untimely death in the early 1980's. Most of his secrets were lost after his death... until now.
"Rheo H. Blair and the
Secrets of Bodybuilding Nutrition eBook"
In this report... the most complete source in print on the Rheo Blair Program... you'll discover:

Exactly what was in Blair's Protein - and what made it so effective.

The one major component of Blair's Protein Powder missing from virtually every protein or meal replacement powder on the market today... and how you can easily add it to the product you are currently using for just a few cents a day.

What one single carbohydrate Blair considered essential to building lean muscle mass.

How the champs used Blair's Program to pack on lean muscle mass... as quickly as possible.

How to use Blair's Program to lose bodyfat and maintain muscle. (One world-famous champ used Blair's Program to lose 90 lbs. of fat in just 8 months! You'll find out who that bodybuilder was and exactly how he did it).

What other supplements Blair manufactured and recommended.

Blair's $1,000 secret for "cooking" eggs to maintain nutritional value.

How to use Blair's Program with today's protein powders and supplements... including a list of recommended protein powders.
Blair was a true pioneer.With this new book, you can build a legendary body FAST the Rheo H. Blair way!
You'll get this just-released report (not available anywhere else) absolutely FREE when you order Nitrobol today.
Nitrobol Amino Acids
We feel that Nitrobol is the best protein "supplement" ever. Nitrobol is pre-digested and fully absorbed in less than 23 minutes. This means the muscle-building aminos get to your muscle cells FAST to support muscle hypertrophy (growth). Dietary protein takes 3 to 4 hours to be digested.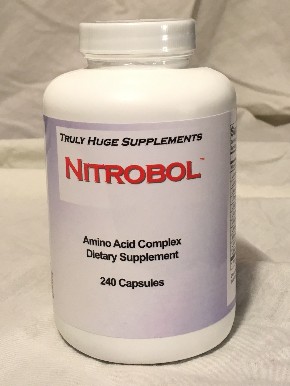 Nitrobol is a "Protein Synthesis Formula" consisting of a proprietary "Amino Acid Complex" blend of 5-HTP, L-Leucine, L-Valine, L-IsoLeucine, L-Lysine, L-Phenylalanine, L-Threanine, L-Methionine, L-Glutamine, Ornithine Ketoglutarate and L-Cystein.
How Do I Use Nitrobol?
A dose of at least 5 to 10 capsules post workout with an additional 5 to 10 before bed on training days only is a good place to start. It is a very economical path to take while enjoying great benefits from Nitrobol. Start at this dose and experiment with higher levels when you are ready.
The timing of Nitrobol intake is without a doubt the single most important factor. When taken on an empty stomach it's it is quickly metabolized and delivered to the muscles. For this reason it is recommended that Nitrobol be used either in-between meals, before bedtime, and the most crucial time to take it is immediately after training.
When Nitrobol is taken in-between meals throughout the day it can have a significant impact on maintaining a positive nitrogen balance for longer periods throughout the day.
It's easy to order...
One bottle of Nitrobol (contains 240 500mg capsules) is only $49.95 + $7 Shipping & Handling.
We Offer Three Different Nitrobol Special
Discounted Packages To Get You Started:
Nitrobol Basic: 2 bottles of Nitrobol (each bottle contains 240 500mg tablets) for the special discounted price of only $90.00 + $9 shipping & handling. That's a savings of $14.90!
Nitrobol Silver: 3 bottles of Nitrobol (each bottle contains 240 500mg tablets) for only $140.00 + $9 shipping & handling. That's a savings of $21.85!
And The Best Deal...
Nitrobol Gold: 4 bottles of Nitrobol (each bottle contains 240 500mg tablets) for only $170.00 + $9 Shipping & Handling. That's a huge savings of $48.80!
It's easy to order but you'll have to act quickly...
My supplies of Nitrobol are limited. Because the exact amino acid combinations have to be so precise it takes at least 30 days to manufacture the raw ingredients for a new batch.
Right now I only have 77 bottles left and they're going FAST! And due to all the specialized work required of our lab, it can sometimes take as long as two months to get a new batch ready!
So you better order today!
When you order either the Nitrobol Silver or Nitrobol Gold package within the next 10 days you'll also get another FREE GIFT...
"Advanced Training Secrets Audio CD
How To Totally & Radically Transform
Your Physique In Eight Weeks Or Less!"
$200.00 worth of advice from Mr. NABBA U.S.A. himself, Rob "The Colossus" Colacino. Rob just finished in the top 5 in the NABBA Mr. Universe and is an up and coming star in the bodybuilding world. He commands upwards of $200.00 an hour for his personal coaching and training advice, but you will be able to eavesdrop on a conversation with Rob, discussing his controversial but effective methods for fully training and exhausting a muscle group in a minimum amount of time. Here's just a few of the nuggets you'll learn from this CD:
This CD retails for over $30.00, but will be yours Absolutely Free when you order either the Nitrobol Silver or Nitrobol Gold package.
We Accept:

All Orders Are Processed On Our Secure Server
For Orders In The USA
Nitrobol $56.95

2 Bottles Nitrobol $99.00

3 Bottles Nitrobol $149.00

4 Bottles Nitrobol $179.00

For Orders Outside The USA
Nitrobol $66.95

2 Bottles Nitrobol $109.95

3 Bottles Nitrobol $159.95

4 Bottles Nitrobol $189.95

To order by phone call:
1-800-635-8970 or 1-503-648-1898
10 AM to 6 PM PST
To order by mail, send check/money order payable to:
Paul Becker
PO Box 95
Weiser, ID 83672
Amino acids bodybuilding, learn the benefits possible side effects and product reviews of the best, essential, natural, complex, branched chain, free form, pills and capsules also read the chart of protein foods, how and when to take amino acids and where to buy online.
Read our Protein supplement information, comparison and reviews to learn the effects and benefits of best, top muscle building high protein pills and capsules for bodybuilding. Also learn about the ideal protein intake before bed to build lean muscle and where to buy protein supplements.