Home | Supplements | eBooks | DVDs | Articles | Forum

Build a Trailer Gym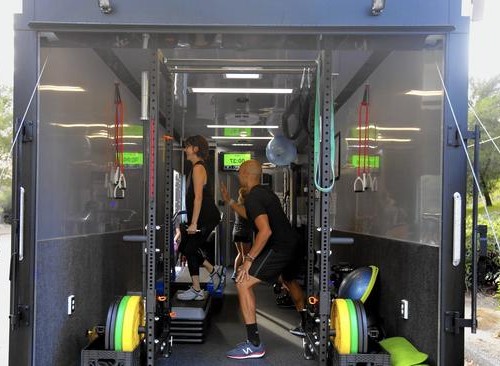 Put Your Gym on Wheels
The kind of gym known to all and sundry is the one established in brick and mortar outlets. However, things are taking a new shape these days. Gone are the days when you have to rely on the conventional type of gym before you can work out. These days, you can opt for a mobile gym, and you will love the outcome.
With a portable gym, you can exercise anywhere you want. You can also decide when you want to work out. Mobile gyms make the entire workout process highly exhilarating, and it will encourage you even further to exercise and burn that unwanted fat.
Do you have a gym in your home or are you planning to establish a mini gym at home? Instead of dedicating that precious space in your home to workout, why not build a mobile gym such as a in custom airstream trailer? You will love the outcome a great deal.
With a mobile gym, no need to carve out space in your home for an indoor gym. That space or room can be used for another rewarding project. If you are already in want of adequate space in your home, but you still want to carve some space out for a gym, then you will find this to be a welcome development. You can build a trailer gym instead and have more indoor space for yourself.
Additionally, a trailer gym can be on the move any time you want. Are you going on a long journey that will make you stay for long on the road? You can attach the trailer gym to your truck and drive away. This will give you acess to workout equipment all through the journey. It will ensure you do not miss your workout schedule because of that important road journey.
You can drive your trailer gym to the park to have fun there. Just pack the trailer and open the windows wide while you work out. The sight of the greenery and the bloom of the flowers at the park will make your workout a lot more interesting than when you have to do the same thing at home. You can change parks at will or face different directions in the same park. This way, you can see a new sight while you are exercising, which will make your workout more interesting and beneficial.
Are you going n camping and you will like to keep in shape while you are there? Then the trailer gym is the best way to get things done. You can take it anywhere you like and have access to top quality workout machine at the right time.
The trailer gym is not difficult to build. You also do not have to spend an arm and a leg to put one together. If you want to use it for personal purpose, you can simply go for a small trailer and install a couple of your favorite workout tools or equipment in it. You can add other features like a heater or air conditioner to the interior. You can also add LED lighting, water-proof iPod and onboard power if you so desire.