Home | Supplements | eBooks | DVDs | Articles | Forum

Tofu Recipes for Bodybuilding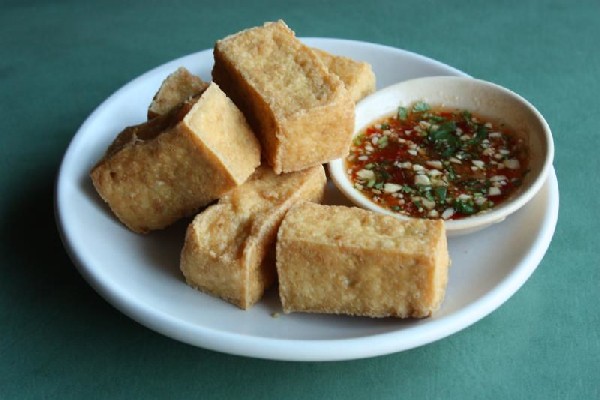 Tofu is a great meat substitute because it's actually a complete protein source, which means it contains all nine of the essential amino acids. Here are some bodybuilding tofu recipes that will not only build your muscles and but will also satisfy your taste buds.
Cheese and Spinach Stuffed Manicotti
Serves: 6 servings
Ingredients:
12 manicotti shells
1 cup fat-free ricotta cheese
1 package Tofu - Extra Firm
1 package spinach, chopped fine
4 Tbsp. onion, chopped fine
1 26-oz. jar of pasta sauce
Instructions:
1. Cook manicotti shells according to package directions.
2. Place Tofu - Extra Firm in food processor and process well to creamy consistency, pour into large mixing bowl.
3. Add ricotta cheese, spinach (thawed and well drained), and onion.
4. Mix well. Place in pastry tube and fill manicotti shells.
5. Put small amount of sauce on bottom of baking dish, place stuffed manicotti shells on top.
6. Pour small amount of sauce over the tops of shells. Set extra sauce aside to be heated and served over the finished dish.
7. Cover baking dish and and place in 350 degree oven for 30-40 minutes.
8. Serve with additional sauce, garnish with fresh parsley or basil.
Pineapple Tofu Ice Cream
A summer topical refresher, Pineapple Tofu Ice Cream quenches the craving for a summer treat!
Serves: 8 (1/2 cup servings)
Homemade ice cream should be served as soon as possible. There are no additives or preservatives so it doesn't keep as long as traditional ice cream when frozen.
Ingredients:
2 lbs. Tofu - Soft
2/3 cup sugar
2 scoops Soy Protein, Vanilla Flavor
1 1/2 cups plain soy milk
8 oz. pineapple chunks, drained
Instructions:
1. In a food processor, combine the tofu, sugar and Soy Protein powder; puree.
2. While processing, add the soy milk and continue to process until the mixture is smooth. Add the pineapple chunks; stir.
3. Pour mixture into a freezer proof plastic container uncovered. Stir every 15 minutes until the mixture reaches a semi-frozen consistency.
4. Alternatively, pour the mixture into an electric ice cream maker and freeze according to manufacturer's directions. Soy ice cream can be made up to 2 days in advance.
Tofu Salmon Quiche
Serves: 6
1. Make this quiche up to two days in advance.
2. Reheat uncovered in preheated 375 degrees F oven for 30-40 minutes.
3. If the crust becomes too brown while baking, shield it with strips of aluminum foil.
PREP AND BAKING TIME: 1-1/2 hours
Ingredients:
1 (12.3oz) Tofu Lite Extra Firm
1 1/2 cups egg substitute
1/2 tsp. garlic powder
1/4 tsp. ground white pepper
1/3 cup packed fresh dill leaves
1/2 cup grated Parmesan cheese
4 medium green onions cut into 1" slices (1/2 cup)
2 (10oz) packages frozen chopped spinach, thawed & squeezed dry
8 oz. smoked salmon, cut into bite-sized pieces
1/4 lb. lite feta cheese
Crust Ingredients
8 sheets frozen phyllo dough, thawed according to manufacturer's directions
non-fat cooking spray
Instructions:
1. In the food processor fitted with the metal chopping blade, process until smooth the tofu, egg substitute, garlic powder, pepper, dill and parmesan.
2. Add in the onions and process until finely chopped. Add in the spinach and pulse to combine.
3. Add the salmon and feta cheese. Pulse 2-4 times briefly just to combine. You should be able to see chunks of salmon throughout the mixture. Be careful not to overprocess.
4. Quickly fit the first piece of phyllo dough into an 8"x8" baking pan. Spray lightly with non-fat cooking spray. Dough will be hanging over the edges of pan. Fit the next piece of phyllo dough into pan at a 90 degree angle to the first piece. Repeat with remaining phyllo.
5. Scrape the filling into the phyllo crust. Gently fold the edges of the phyllo over the sides of the filling to form a crust then spray lightly with cooking spray. Bake in a preheated 400 degrees F oven for 50 min. Let stand 10 minutes before serving. Serve hot or at room temperature.
Tofu Tacos
Serves: 12 tacos, 2 tacos per serving
Ingredients:
2 Tbsp. olive oil
2 small zucchini, halved lengthwise and cut into 1/4" slices (about 2 cups)
1 cups sliced mushrooms
2 carrots, coarsely shredded
1 small onion, cut into 1/4" strips
1 tsp. minced garlic
6-oz. can of tomato paste
3/4 cup water
2 tsp. chili powder (or to taste)
1/2 tsp. hot pepper sauce (or to taste)
1/4 tsp. ground cumin
1/4 tsp. freshly ground black pepper (or to taste)
1 pkg. Tofu Extra Firm, cut into 1/2" cubes (about 2 cups)
3 plum tomatoes, cut into 1/2" cubes (about 1 cup)
12 taco shells
Optional: orange slices for garnish.
Instructions:
1. Preheat oven to 350 degrees .
2. Heat olive oil in large, nonstick skillet over medium-high heat.
3. Add the zucchini, mushrooms, carrots, onion and garlic. Cook, stirring occasionally, until vegetables are tender but not browned, about 5 minutes.
4. Meanwhile, combine tomato paste, water, chili powder, hot pepper sauce, cumin and pepper in a small bowl; add the mixture to the skillet.
5. Gently stir in the tofu cubes and plum tomatoes. Reduce heat to low; cover and heat through, about 5 minutes.
6. To serve, spoon about 1/2 cup of mixture into each of the taco shells.
Tofu Tortilla Salad
This spicy south of the border summer salad is great for an outdoor party.
Serves: 6
Ingredients:
1 1/2 pounds Tofu - Firm
3/4 cup olive oil
1/4 cup white wine vinegar
1/2 tsp. ground cumin
1/2 tsp. chili powder
1 small red onion, chopped
2 large tomatoes, diced
1 medium, ripe avocado, diced
1 pound mixed greens
16 blue corn chips, sightly broken
Instructions:
1. Drain the tofu and dice into large cubes. Set aside in a shallow baking pan.
2. In a small mixing bowl, combine the olive oil, vinegar, cumin, and chili powder and mix thoroughly.
3. Pour the olive oil marinade over the cubes and let sit for at least one hour.
4. In a large salad bowl, lightly toss the onions, tomatoes, avocados, and mixed greens.
5. Top the salad with the marinated tofu, and garnish with the blue corn chips.
For more bodybuilding recipes and bodybuilding meal plans get the Bodybuilding Cookbook.