Home | Supplements | eBooks | DVDs | Articles | Forum

Theresa Hessler Biography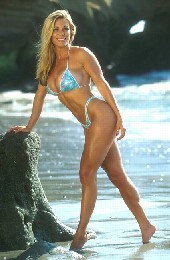 Article care of theresahessler.com
Birthday: July 19, 1969 Baltimore, Maryland
Nationality: German/Polish
Height: 5'7"
Hair: Blonde

DEGREES: I graduated with my bachelor?s degree in Accounting from the University of Baltimore, December 1997. I have plans to continue my education, but I have remained undecided what I ultimately want to do when I grow up.
I have been working as a legal assistant for the past ten years, but I?m not sure I want to go to law school. I most recently started my own personal training business which has done extremely well. It's a good feeling to share my fitness knowledge to help others achieve their goals. I am training a few women who will be competing in upcoming fitness competitions and I'm excited to see the end result.
I have been involved with fitness since I was a young girl. I quickly gained the reputation of a tomboy. TV was boring for me, it still is, so I played every sport I could. In my freshman year of high school, I made varsity track. I have been weight training since I was 16.
Theresa's accomplishments include:
-1998 IFBB Czech Pro Fitness -
6th place
-1998 IFBB Fitness International -
6th place
-1998 IFBB Pro Fitness of France -
7th place
-1997 IFBB Jan Tana Pro Fitness
Classic - 1st place
-1997 IFBB Italian Pro Fitness -
1st place
-1997 IFBB Midwest Pro Fitness
Classic - 3rd place
-1997 IFBB Czech Republic Pro
Classic - 3rd place
-1997 IFBB Fitness International -
6th place
-1997 IFBB Fitness Olympia -
8th place
-1996 IFBB Jan Tana Pro Fitness
Challenge - 1st place
-1996 IFBB Florida Fitness
Championships - 3rd place
-1996 IFBB Fitness Olympia -
6th place
-1996 IFBB World Professional
Fitness Championships - 7th
place
-1995 NPC National Women's
Fitness Championships -
3rd place
-1995 NPC Maryland Women's
Fitness Championships -
1st place
-1995 Best Body on the Beach:
Ocean City, Maryland - 1st place
-1995 Best Body on the Beach:
Roehobeth Beach, Delaware -
1st place
-1994 Ms. Volleyball Blast -
1st place
-1993 Best Body on the Beach:
Ocean City, Maryland - 1st place