Home | Supplements | eBooks | DVDs | Articles | Forum

Soy Protein Recipes for Bodybuilding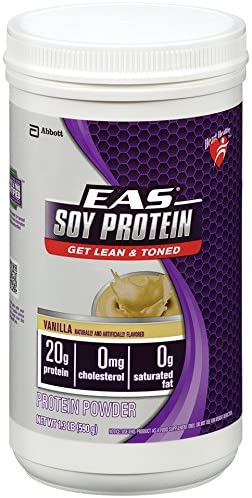 Using soy protein in place of whey protein can be a great advantage to bodybuilders who are lactose-intolerant, vegetarian or vegan. Here are some bodybuilding soy protein recipes that are both nutritious and delicious.
Baked Chocolate Pudding
Serves: 2 servings
Ingredients:
Vegetable cooking spray
1/4 cup all-purpose flour
2 scoops Chocolate soy protein powder
3 Tbsp. granulated sugar
1 1/2 tsp. cocoa
1/2 tsp. baking powder
3/4 cup skim milk
2 tsp. reduced-calorie margarine, melted
1/2 tsp. vanilla extract
2 tsp. chopped pecans
Instructions:
1. Coat two 10-oz. oven-proof custard cups with cooking spray
2. Combine next 5 ingredients
3. Stir in milk, margarine, and vanilla; mix until well blended
4. Pour evenly into cups
5. Sprinkle pecans evenly over top of pudding
6. Place cups on a baking sheet
7. Bake at 350 degrees F for 25 to 30 minutes or until edges begin to pull away from sides of cup (pudding will not be set in center)
8. Cool 10 minutes and serve warm
Chocolate Chip Bars
Serves: 2 dozen bars, 1 bar per serving
Ingredients:
2 cups unbleached flour
1/2 cup whole wheat flour
1 tsp. non-aluminum baking powder
1/2 tsp. baking soda
1/2 tsp. salt
1 (12.3-oz) package firm silken tofu, crumbled
1 cup brown sugar
1/2 cup oil
2 tsp. vanilla
2 scoops soy protein powder Vanilla (1/2 cup)
1 cup chocolate chips
1/2 cup chopped walnuts or pecans
Instructions:
1. Preheat the oven to 350 degrees F
2. Mix together the flours, baking powder, baking soda, and salt in a bowl
3. In a mixer, beat together the tofu, brown sugar, oil, vanilla, and protein powder until creamy
5. Add the chocolate chips and nuts, and beat again just until blended
6. Spread the batter into a 9x13-inch pan, and bake for 20 to 25 minutes, or until golden brown
Chocolate Lovers Torte
Serves: 10
Everyone knows that SlimFast makes a delicious meal on the go. But I'll bet you don't know that soy protein enriched chocolate SlimFast can be used to create a luscious dessert that will satisfy any health-conscious Chocoholic. Packed with all the vitamins and minerals SlimFast has to offer, this elegant easy-to-make dessert is deceptively easy on your waistline...just 200 calories.
PREP TIME: 20-30 minutes
REFRIGERATOR TIME: 4 hours
Ingredients:
3 dozen Lady Fingers (3 packages)
3 packages (1.3oz) dehydrated dessert topping mix
3/4 cup Ultra SlimFast with Soy Protein Chocolate Delite
1 1/2 cups Chocolate Soymilk
Optional Garnishes
2 T. finely grated semi-sweet chocolate
Fresh sliced strawberries, blueberries, or raspberries
Instructions:
1. Split the ladyfingers then line a 9" spring form pan across the bottom and around the sides.
2. In a deep, 2 or 3-quart mixing bowl, whisk topping mix and SlimFast. Using an electric mixer on low to medium power, gradually blend in the chocolate soymilk. When dry mixture is lightly blended into the soymilk, set the mixer on high power and whip until filling is light, fluffy, and forms peaks when the beaters are lifted, about 4 minutes.
3. Spread 1/3 of the mix over the layer of the ladyfingers on the bottom of the pan. Top with another layer of ladyfingers. Repeat with a second and third layer of mocha mixture and ladyfingers. Sprinkle top with optional chopped toasted hazelnuts and grated chocolate if desired.
4. Cover loosely with tented aluminum foil and refrigerate a minimum of 5 hours or overnight. To serve, remove sides of spring form pan and place torte on a large serving platter for presentation before slicing. Serve torte slices on decorative dessert plates with fresh berries on the side.
Corn Chowder
Serves: 11 cups, 2 cups per serving
Ingredients:
4 cups chopped potatoes
2 cups water
1 bell pepper, chopped
1 onion, chopped
3 cups frozen, fresh, or canned corn (1 lb.)
2 scoops soy protein powder (1/2 cup) dissolved in 2 cups soymilk
1/2 cup chopped fresh parsley
1 tsp. salt
1/8 tsp. black pepper
Instructions:
1. In a soup pot, cook the potatoes in the water for 5 to 10 minutes until they are soft.
2. Blend them in your food processor or blender and pour the creamy liquid back into the soup pot
3. In a skillet, saute the bell pepper and onion in the oil until they are soft and start to brown
4. Add them to the creamy potato soup base
5. If you're using frozen or fresh corn, add it to the skillet of sauteed vegetables
6. Cook the corn briefly before adding it to the blended potato soup base
7. Add the corn (if you didn't add it to the sauteed vegetables), the dissolved protein powder and soymilk, parsley, salt, and black pepper to the soup pot
8. Gradually return the soup to a slow boil, stirring often so it won't stick to the bottom of the pot
9. Simmer for several minutes
10. Don't sustain a rolling boil, or the milk may separate
11. Remove from the heat and cover until ready to serve
Sweetened Condensed Soymilk
Serves: 1 2/3 cups, equal to 1 commercial 14-oz. can, 2 Tbsp. per serving
Ingredients:
1 cup light unbleached sugar
2/3 cup boiling water
6 Tbsp. soymilk powder
5 Tbsp. Soy Protein Powder Vanilla
1 Tbsp. melted soy margarine
Instructions:
1. Combine all the ingredients in a blender, and process until the sugar is dissolved and the mixture is thick
2. Pour into a clean jar, cover, and refrigerate
3. The milk thickens when chilled
For more bodybuilding recipes and bodybuilding meal plans get the Bodybuilding Cookbook.