Home | Supplements | eBooks | DVDs | Articles | Forum

Sherry Goggin Biography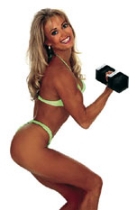 Article care of sherryg.com
Sherry Goggin, daughter of Irvin and Shirley Goggin, was raised in Chattanooga, Tennessee. She graduated East Ridge High School with honors and graduated the University of Tennessee at Chattanooga, Tennessee with a B.S. Degree in Business Finance. Sherry owns a Gold's Gym in Southern California.
Athletic History:
Sherry started competing at the age of eight, and she hasn't stopped. "I was on a twirling team, a dance team, and a gymnastics team," related the 5'6", 110-pound blue-eyed blonde. "I've always had this competitiveness in me."
In high school Sherry was on the twirling team and played the drums. In college she was an honor student and a varsity cheerleader, a Phi Beta Phi, an ATO little sister, and she played intramural basketball, volleyball, and powder puff football "for fun."
She also competed in beauty pageants, winning several titles, including the Ms. Georgia Sweetheart, Ms. Cinderella, and she competed in the Miss Tennessee pageant, winning the Swimsuit round. She is recognized as a top fitness model and athlete. She is so busy that she often eats in the car while traveling from one workout to the next.
Sherry is a rising star on the horizon.
Sherry first appeared in "Married with Children", "Back to the Beach", and "Days of our Lives" soon after moving to CA. She now has appeared in three national commercials: MCI, Diet Pepsi, and Bally's Health Club. She appeared as a fitness instructor on "Land's End" with Fred Dyer, and hosted "American Muscle Magazine" for a year. Sherry also is on the current informercials for Comfort Cycle with Dorothy Hamil, for the Total Gym with Chuck Norris and Christy Brinkley, along with Power Strider and Power Rider.
She also recently co-starred in "Acapulco Heat" and "Kiana's Flex Appeal" and appeared on "It Takes Two" with Dick Clark. She just finished filming the "Body by Jake" workout show for Fit TV and has appeared on "Montel Williams", "Entertainment Tonight", "Extra", "Inside Edition" and "American Gladiators". Recently she doubled for for Heather Locklear in a new NFL commercial.
Sponsors:
As you can see, Sherry's hard work has paid off. She is the 1997 Spokesmodel for Power Bar, York Barbell Company, EAS, REVO, Yamaha Water Craft, Body Alive Clothing, TKO, Otomix and Hot Skins.
Print Work:
You can see her in the new Caruska Catalog and in the Hot Skins calendar, posters, videos and catalogs. She also appears in the new swimsuit video for Ironman. You can see Sherry every month in many fitness magazines: Ironman, Swimsuit Illustrated, Muscular Development, Muclemag, Muscle and Fitness, Fitness Plus Magazine, Vie, and Muscle Media 2000.
Sherry's Fitness Formula:
Sherry is now writing her own monthly column in Ironman magazine called "Sherry's Fitness Formula on Training and Nutrition Tips."
She moved to sunny California after college to pursue a modeling and acting career. Sherry's career took off like fire after winning the Ms. Fitness America and it is still on the horizon as we can see.
Sherry also travels as a fitness spokesmodel to Japan and all over Europe for guest appearances, as well as throughout the United States.
Training:
Sherry trains at her Gold's Gym five days a week. She trains two body parts a day and does cardio five days a week, and more if time allows. Sherry changes her program on a regular basis, every 4 weeks.
Goal:
Sherry's goal is to continue to be a role model for others, have a huge impact on others and to inspire, motivate and help others to a have positive outlook on life, to succeed in life and stay healthy. No matter what it is you desire in life you can achieve it.
Sherry's future goal is to have a great career in acting. "I am very ambitious. I set my goals, and I achieve my goals."
Hobbies:
Sherry studies martial arts, plays the piano and drums. Sherry collects cars: a 1996 Hummer, 911 convertible turbo Porsche, 1984 Corvette, 1960 Cadillac, 1962 El Camino, Jeep, Celica, and FXRS Lowrider Harley, and of course her four wheelers, 3-seater Yamahas, and golfcart.
Sherry's Upbringing:
Sherry was raised in a Christian family with strict morals. "I am Baptist. My parents were strict with me and I'm glad. I am thankful for them and for their always being there for me."