Home | Supplements | eBooks | DVDs | Articles | Forum

Rob Colacino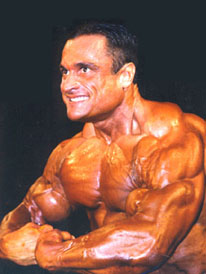 Bodybuilder Rob Colacino has won the NPC Westchester Diamond Cup Overall and Most Muscular, NPC Southern New England Golds Classic Winner, Nabba Mr. East Coast, Nabba Mr. USA Overall Winnder and Most Muscular Man in America Winner. He was also the 1st winner of the Don Ross Memorial Most Muscular Man.
Rob Colacino is the creator of the Psycho Burst Training System (available at Rob Colacino Training DVD) which features the controversial "1 Rep Training". Rob's training system and physique was featured in Ironman Magazine. Again, Psycho Burst Training System is available at Rob Colacino Training DVD or by calling our toll free 800-635-8970 telephone number.
Rob's future consists of educating and inspiring the bodybuilding world and becoming the "freakiest" bodybuilder he could be, " and loving every second of it". He wants you to check out his "hard core, extreme and inspirational DVD as soon as humanly possible".
Rob also is a family man, and at the top of his priority list is his family - fiance Kim and daughter Kaylee. He also puts his friends and those who need a helping hand at the top of this list.
Fans love Rob Colacino not only for his accomplishments and size but also for his heart.