Home | Supplements | eBooks | DVDs | Articles | Forum

Linda O'Neil Bio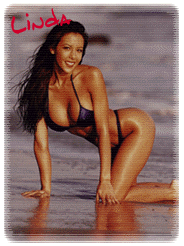 Article care of lindaoneil.com
I was born on August 12 on Mather AFB, just outside of Sacramento, CA. My dad, of French and Irish descent, was an Air Force pilot in the Vietnam War, where he met and later married my mom. I was born three years later the second child of three Eurasian girls in my family.
I sure had my share of traveling when I was growing up! The island of Guam was definitely my favorite of all the places we lived... The beaches were primitive and beautiful, and except for the occasional typhoon, so was the weather! And I had a year-round tan!!! We moved so many times, and I made new friends so often, that it's no wonder I am an extrovert!
As long as I can remember, I've always wanted to be a model! As you can see, I loved being in front of the camera! Or anyplace else I could be the center of attention!!! (A Leo trait, to be sure)! When I was thirteen, instead of dissecting frogs in biology class (gross!) I taught myself how to sit pretty, with perfect posture, and smile at boys!!! When I was fourteen, I took modeling seminars and learned how to wear make-up, and walk the catwalk like a runway model. And when I was fifteen, I posed for my first professional photo shoot... braces and all!
Throughout high school, when I wasn't competing in volleyball, soccer, track, (or my two favorites), gymnastics and dance, I modeled. Whenever I had the chance I modeled in mall fashion shows, bridal shows, hair shows, etc. Then I met a real fashion photographer, who helped me start my portfolio, and book some of my first real modeling jobs.
I am currently featured in 12 calendars (Dreamgirls, Xtreme, Street Rodder, Iron & Lace, etc) and have appeared in over 25 magazines, some as cover model. I have also modeled in many Commercial Print Ads including Winston, Canon, Danskin, Yamaha, Venus Swimwear, Marriott, and Herbalife. Although modeling is my true passion, within the last year, I have transitioned into acting as well. Starting out with small featured parts on Baywatch, The Tonight Show with Jay Leno, Unhappily Ever After, etc. and cameo appearances in movies like Baseketball and Mystery Men, I have now moved forward in my career to include television commercials also.