Home | Supplements | eBooks | DVDs | Articles | Forum

Juliette Bergman Bio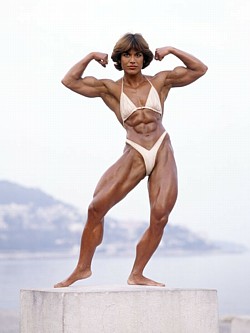 Article care of juliettebergmann.com
I was born on Sunday November 30, 1958, in Vlaardingen, the Netherlands. My father is Indonesian and my mother is Dutch and they gave me the best from both worlds. I had an older brother who died when I was four years old. My parents then decided to have more children and they gave me a sister, who is also a very good Bodybuilder, and two brothers. For a couple of years we were a happy family of six. Then one of my younger brothers died, I was 12 years at that time. My mother, who lost two children, had a very difficult time and I had to take care for my younger sister and brother. I had a difficult childhood since that time but it also made me what I am today, serious, disciplined, loyal and responsible.
I finished school and studied financial management, journalism, aerobic and fitness training. When I was 17 I met my (now) ex- husband Jan Meijer and we stayed together for 10 years. This explains to many of you why my name was Juliette Meijer, when I first started to compete as professional. I used my maiden name again and moved to Middelharnis in 1985 and still live there with my friend, my sister and daughter Roxanne. We have a publishing company, travel agency and the Gym (Ironman Gym). When I am not traveling I am at the office during the daytime and in the evenings I work (besides training) in the Gym. I travel a lot because for the past 10 years I have been a Pro-Judge and secretary/treasurer of the NBBF (Dutch Bodybuilding and Fitness federation). I also do a lot of guest posing.
I started training in 1981 together with my ex- husband. The main reason to workout for me was to lose weight, definitely not to become a bodybuilder. I decided to become a bodybuilder after I visited a bodybuilding contest in 1983 and noticed how good the girls looked. The owner of the gym persuaded me to compete and I did my first and second contest the end of that same year, I won both shows. In 1984 I competed in my first National Championship and came in second after Erica Mes and Ellen van Maris and qualified for my first European Championship in Den Hague, Netherlands where I finished seventh. The owner of the gym where I trained at that time did not know how to help me further and brought me in contact with Jim Lensveld who was and still is the vice- president of the Dutch National Bodybuilding and Fitness Federation. Jim owns a gym in Middelharnis and for two years I traveled everyday one hour to the gym in Middelharnis and one hour back to my home, which at that time was in Oud-Beijerland/Rotterdam.
After my divorce I moved to Middelharnis and Jim became my trainer and my friend and we are still together. Jim trained with me and ran with me in my contest preparations and I did well after that. End of 1984 I won my first National Championship and in 1985 my second. I qualified again for the European Championships, this time in Madrid, Spain and won the lightweight division with straight first places. Then I had to compete again in a National Championship to qualify for the World Championship in Brussel, Belgium. I won my third National Championship and qualified for the World Championship. I was very impressed by all the other competitors and had no idea that I was better than all of them. I had one comparison the whole show and did not expect that I was doing well. Later I heard that they compared me one time just to let the audience see me. I discovered I had already won in the line- up, again with straight first places and qualified for the Ms. Olympia 1985 in New York.
By that time, after competing in the National Championships, two qualifiers, European and World Championships and the personal difficulties (my divorce) all in the same year, I was completely burned out. At the Olympia, I had for my fans a very disappointing 14th place finish.
The next year, 1986, I had a guest appearance together with Berry de Mey in Orange County and Jim and I stayed at Steve Wennerstrom's place for a while. I looked so good at that show that Jim Lorrimer invited me to compete in the Ms. International. I decided "why not" I was there anyway so I competed and finished second to Erica Giessen with only one point difference. I lost the posing round.
One week after the Ms. International, I was in the still in the States so again "why not," I competed in the L.A. Pro Show and finished second to Diana Dennis. At that show Tony Pearson approached me to do the Pro World Championship Couples together with him and I agreed. We picked out music and made our own individual best poses each at our own home, he in the States and I in the Netherlands. We matched the poses together by sending Polaroid photos to each other and matching them with our individual poses. One week before the Pro World Championships ?86 in Toronto, Canada we got together and practiced the routine for half a day. I won the women?s Pro World Championships from Diana Dennis and with Tony Pearson I made it complete by also winning the Pro-World Championship mixed pairs.
In November 1986 I competed in the Ms. Olympia and finished 6th. In 1987 I had a very busy year and made mistakes like everybody does in their lives but to my surprise, finished 9th at the Ms. Olympia 1987. I still do not understand that placing because I was totally out of shape and should not have competed, I looked like a power lifter and was 6 kilos heavier than I normally was at a contest. After that Ms. Olympia I changed my diet and started to do a lot of running, my training stayed the same.
Three months later I went to Nice, France to compete in the pro- World Championships ?88 but after the drugs test I was told, one hour before the show, that I tested positive. I know that that was not possible but I learned that sometimes you have to let go. So, I asked for VIP tickets to watch the show. I felt bad for my fans, not for myself, because that year (1988) I was in the best shape of my life and I was not able to show this to my fans and to win the title again.
In 1989 I prepared for the Pro- World Championship again but one month before that show my father was hospitalized and I had to decide if they would operate again so he would live another year. My father asked me to decide not to operate because he could not live another year with the pain. I stayed at his bed for about two weeks before he died. It would have been better not to compete but I felt responsible for all my fans and went. I did not do well although I think I looked good enough, I finished 7th. I looked the way they like to have the woman bodybuilder?s look today, with the new rules.
I decided to take one year off and to compete again in 1991 but fate decided different. When I was running a dog (Doberman) attacked me and I broke my ankle real bad. Everything in my ankle was damaged. My foot went out off its fork and was turned backward. I was lucky that the surgeon was a good friend of ours and knew who I was and what I did. He stitched everything together and screwed the broken bones back to where they belonged. The only memories of that accident are big scarves and a lot of pain with running and sometimes with training.
It took a couple of years before I could train and run the way I always had and in that time we were expanding our business. We now have two magazines, one British car magazine and one magazine which covers Bodybuilding, Fitness, Sumo wrestling, Wrestling, weightlifting and power lifting. We also have a travel agency which specializes in boat trips from the Netherlands to England. And of course we have our gym.
I also do a lot of guest posing at shows because I always look the same and keep myself in good condition all year round. Doing so also makes me available on short notice. My secret is that I always train, when my ankle was broken I had the guys in the gym carrying me into the gym so I could train my upper body, run, watch what I eat for 20 years already and I profit from this when I get older. Today I look better than 20 years ago and I am happy that I have been able to do this and hope to be able to continue this for another 20 years and to win the only title I do not have.
Well, it has finally happened. I have now won the only title I did not have, Ms. Olympia.
After receiving a special invitation to compete I flew to Las Vegas and competed in the 2001 Ms. Olympia Contest. It was a very good field of competitors and I am proud to have won.