Home | Supplements | eBooks | DVDs | Articles | Forum

Carmen Garcia Biography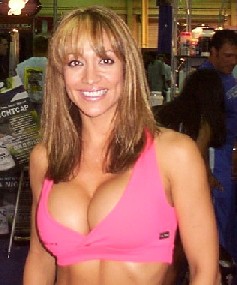 Article care of carmenfitbody.com
Carmen was born in the beautiful Caribbean island of Cuba. This multi-talented exotic swimsuit & fitness model left the Caribbean at merely 8 months and moved to Spain for 3 years. When she turned the tender age of 3 she uprooted to Miami, Florida with her family where she was raised. Shortly after Carmen finished high school in Miami, she decided to move to sunny San Diego, California and began taking courses in Drama, Dance, Fashion, Photography and Business.
In the summer of 1995, Carmen was introduced to Glamour photographer, Lynn Bambrough. Carmen thought it would be a great learning experience in her own photography freelancing projects to assist Lynn with his work in Fashion and Glamour. One day during a test shoot with Carmen as the model, she discovered a whole new world on the other side of the camera! From that day on, she began landing jobs modeling for various local magazines, local ads in newspapers, catalog and brochures.
Moving to Los Angeles was a smart move for Carmen Garcia since it has expanded her career in many directions. She has recently appeared on many websites as featured model of the month, and several publications such as Musclemag International, Just Swimsuits, Planet Muscle and the cover of Low Rider, July 2001 wearing a "muy caliente" dress!
This fiery Latin bombshell really knows how to heat things up in a crazy town like Los Angeles! She has also been featured in TV shows such as Silk Stalkings and Renegade. She's appeared as a guest on the game show Sex Wars. You can start watching out more for Carmen in upcoming music videos such as Sugar Ray's latest hit on MTV, "When It's Over." Carmen is aspiring to become an entertainment reporter as she also currently works on tuning up her commercial acting skills.
Not only is Carmen multi-talented, but she is seriously into weight training 4-5 times a week, outdoor activities and water sports. She attended a training camp course in Venice, CA on October 2000 to compete in a fitness competition, Galaxy Nova. Carmen adds, "training and exercising not only makes my body strong, but it strengthens my mind and soul, too...it's very therapeutic!". Her ambition will take her far because she would also like to own a personal private gym with a retail workout apparel and nutrition store since Carmen is a certified personal trainer herself. This sexy Latin siren adores the ocean and is passionate about life and traveling the world!