Home | Supplements | eBooks | DVDs | Articles | Forum

Bodybuilding App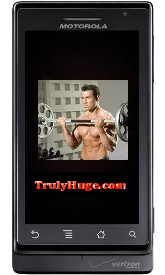 Coming soon "The Truly Huge Bodybuilding App" takes the guesswork out of training. Now you can be your own personal trainer, or you can train others with ease and confidence of great results.
This is the best bodybuilding app you will find because it's an easy to use app that gives you set-up-&-go programs. You simply plug in the information and in seconds you have a workout tailored to your (or your client's) needs. Every set and rep is calculated for you, then you just head for the gym.
The Truly Huge Bodybuilding App is a complete package, containing many tools to help you meet your goals. A lot of thinking went into this app. After all, many people legitimately ask "why use a app to help my workouts?" The answer we keep coming to is motivation - and for something to be motivational, it not only needs to be functionally sound, but fun.
WANT TO WIN A FREE COPY?
We will need some beta testers. So if you are interested in downloading a free copy of this bodybuilding app and putting it through some serious testing, then click the link below to sign up from free updates and the chance to win the best bodybuilding app ever!