Home | Supplements | eBooks | DVDs | Articles | Forum

Bianca Burke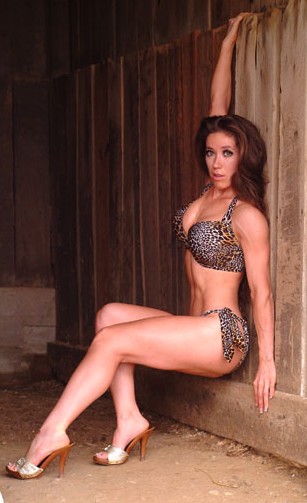 Figure Competitor Interview
Bianca Burke placed second in figure short division at the INBF Natural Buckeye Classic 2011 under her own training.
She has overcome a few physical struggles such as a tear in the wall of her muscle that resulted in corrective surgery. The injury was from over training and lack of proper nutrition. Since then, she has tried to make an effort to spread the word on what it means to live healthy - as she says "an educated mind brings happiness and well being".
Read the interview below:
Q. Can you give us some background about yourself?
A. I am a 23 year old college student looking to spread the word to others on what it means to truly live healthy. I began training for figure about a year ago, entered my first competition this past April 2011 and placed 2nd in my division.
Q. What got you started in fitness?
A. I was an out of shape skinny person embarrassed by getting winded from walking up a flight of stairs.
Q. What are your favorite and least favorite exercises?
A. My favorite exercises are bent over barbell rows- my back is my strongest feature. My least favorite would have to be hanging leg raises.
Q. What are some tips you can give for the beginner, intermediate and advanced?
A. For beginners: Get yourself an education before trying anything at the gym.
Intermediate: Hydration is just as important as the nutrition-chug that water! LOL
Advanced: If you've reached a plateau, try enlisting the help of a personal trainer. They're the equivalent of a tutor.
Q. What are your future goals?
A. The Ohio State University is holding their annual Most Fit Buckeye Competition. I hope to place first in that. The exercises executed in it are just like what you would see at Cross Fit games. It's going to be a lot fun!
Q. What is the toughest part about fitness for you?
A. Motivating yourself everyday. Fitness isn't something that requires a one time good thought. It requires a daily, life changing, on-going mind set metamorphosis.
Q. What are your workouts like?
A. Depends on what I'm getting ready for. If I just came out of an off season-it's 6 days a week weight lifting and cardio for an hour, hour and a half.
Q. What is your diet like?
A. Lots of lean yummy protein 6x a day with an incorporation of fruits and veggies.
Q. Anything else you'd like to add?
A. Like my Facebook Fan Page Please!! LOL. =0]
Bianca Burke Facebook Fan Page
Bianca Burke - Figure Competitor Interview