Home | Supplements | eBooks | DVDs | Articles | Forum

Angela Mraz Biography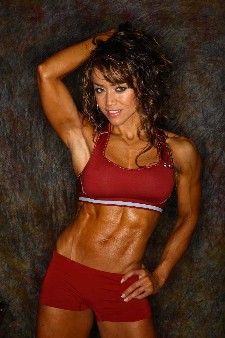 Article care of angelafitnesserotica.com
Stats
Date of birth: 11/30
Nationality: Colombian
Hair color/length: brown/long
Eyes: brown
Bust: 34C
Waist: 23
Hips: 34
Height: 5'2"
Weight: 110lbs
Dress size: 2
Shoe size: 7
I was born and raised in Colombia, South America. At the age of 19 I moved to the United States in hopes of making my life better as well as affording myself those golden opportunities. It didn't take me long to become Americanized, meet the man of my dreams and find myself fascinated with working out.
I will be honest, working out requires a total commitment to exercise and nutrition as well as having decent genetics. However, just like anything in life, you get out what you put in!
When I first started working out I found that I enjoyed it alot. This alone gave me positive physical results and definitely kept me motivated to get up every morning and go to the gym. Last year I decided that I wanted to share the secrets of my success. How I trained, what I ate, etc. with other people. So I became a certified personal trainer. Right now I only keep a select clientele because I am investing a lot of time and attention to modeling and figure competitions.
I love being in front of a camera! I shoot all types of modeling, specializing in artistic styles where my body can be seen and appreciated for it's muscle composition coupled with grace and beauty.
I love to do new and exciting things, challenge myself as well as do stuff that is not common and everyday.
I love my two dogs, planting flowers in the front yard and going to the movies late at night.
My life is my husband and 4 year old son who both love me dearly. They give me strength and motivation to stay healthy and pretty!
Let's see, my favorite actor is Brad Pitt, favorite actress is Julia Roberts, singers are Thalia and Carlos Vives, favorite car is my explorer, and my favorite type of dog is the rottweiler.
In case your wondering... I can indeed squat 245lbs, curl about 60lbs and before my surgery (shhhh!) I could bench press 135lbs. I work out 5 days per week for at least an hour and a half per day, doing both aerobic and anaerobic exercises. I am very strict with my diet although I do cheat from time to time with a bowl of Kellogg's Cornflakes right before I go to bed. I have entered 4 NPC Figure Competitions and have came in 1st Place.
in all of them!